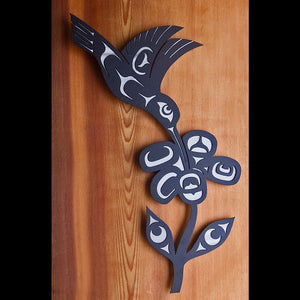 Ruggid Coast
Hummingbird With Flower
Sale price Price $198.00 CAD Regular price
Designed by Trevor Husband, First Nations artist.
16 ga steel construction.
Made in Canada on Vancouver Island, BC
Black on Clear Finish.
Dimensions:  25 in. High x 14.25 in. Wide
Hummingbird teaches us to be light and live with joy. They can move in any direction, and are very light. They teach us to live the same way, to not get stuck in certain ways of being that limit us from experiencing the joy that life offers.