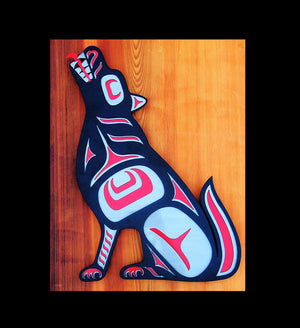 Ruggid Coast
Wolf
Sale price Price $226.00 Regular price
 Designed by Trevor Husband, First Nations artist.
16 ga steel construction.
Clear, Black, and Red Finish.
Made in Canada on Vancouver Island, BC
Dimensions 22.25 in. High x 16.25 in Wide.
Comes with welded offset hanging brackets.
The wolf is a teacher and a leader. Wolves live in a pack and are very social. The older wolves teach the younger ones how to live, and this is the medicine that they teach the humans, how to do the same with our young.