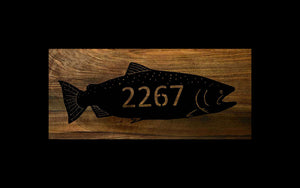 Ruggid Coast
Chinook Salmon, Address Sign
Sale price Price $150.00 CAD Regular price $150.00 CAD
16 ga steel
Custom cut to your address number.
Comes stock with two mounting holes to mount flush. Optional welded hanging or standoffs are available.
Available in steel finish/with clear coat, or natural rust.
Made in Canada on Vancouver Island, BC.
Custom sizes and mounting options available. Please contact us at sales@ruggidcoast.com for more info.