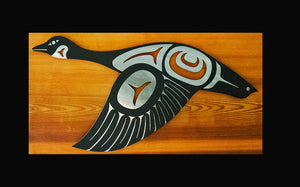 Ruggid Coast
Goose, Wings Down
Sale price Price $198.00 CAD Regular price
Design by Trevor Husband, First Nations artist.
16 ga steel construction.
Black on Clear Finish
Made in Canada on Vancouver Island, BC
Dimensions : 12.5 in high x 24 in wide
The goose is community oriented, they fly together and take turns sharing the burden of flying in the lead. When one leaves the V because of illness, another stays with it until it is healthy or dies. So Canadian Geese show us how to care for each other and work as a team.