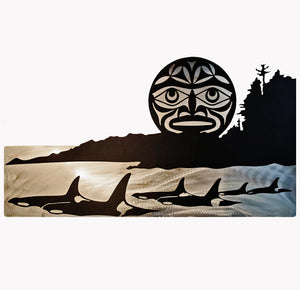 Ruggid Coast
Orca Pod with Moon "Generations"
Sale price Price $549.00 CAD Regular price
Designed by artists Jerrod Pinder and Joe Wilson (Sxwaset) from Vancouver Island, Canada.

"The whales represent the three generations in a family, and the moon symbolic to First Nation culture rises across the treeline. The moon looks on watching over the families."

16 ga steel construction.
Black on clear powder coating. 2 layer design.

Welding Hanging Brackets.
Made in Canada on Vancouver Island, BC.