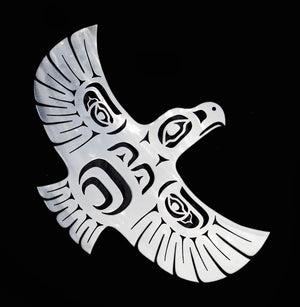 Ruggid Coast
Eagle
Sale price Price $302.00 Regular price
Eagle. Design by Trevor Husband, Vancouver Island First nations artist.
16 ga steel construction.
Clear, Black, or Rusted finish.
Made in Canada on Vancouver Island, BC
Dimensions : 26 in. wide  x 35 in. high
Eagle symbolizes strength of spirit. He sits atop the trees and is closest to spirit, when we pray eagle carries our prayers up to creator.

This eagle is soaring, reminding us to use the wind currents around us and not try to do everything ourselves, we are not alone.