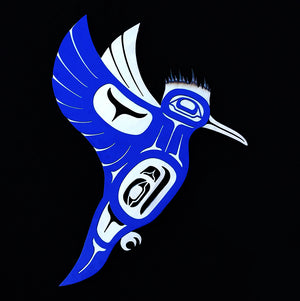 Ruggid Coast
Kingfisher, Flying
Sale price Price $150.00 Regular price
Design by Trevor Husband, First Nations artist.
16 ga steel construction.

Blue on Clear Finish

Made in Canada on Vancouver Island, BC

Dimensions : 23 in high x 16.5 in wide
Kingfisher is a messenger, it is always near the water. It teaches us to be brave and dive into the water headfirst, to get what we need.
Because it goes from air to water to land it can bring back messages from the spirit world.