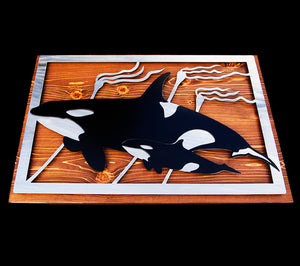 Ruggid Coast
Orca Whale Mother & Calf
Sale price Price $599.00 CAD Regular price
Metal Artwork from our west coast artwork collection titled "The Struggle".
23.5" x 34.5" wide
Silver/Black Finish
Steel, with Stained Cedar Plaque.
The Southern Resident Killer Whale Population (SRKW) continues to decline off our west coast on Vancouver Island, Salish Sea, and elsewhere. This art piece reflects the struggle of new born orcas have to survive, and the close bond is to their family. It also reminds us how fragile our own family ties are, and how we struggle in our own ways for survival just like in nature.