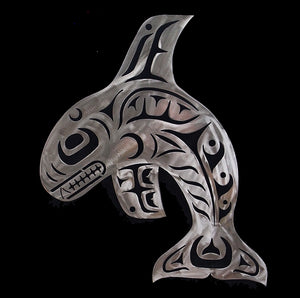 Ruggid Coast
Orca Whale
Sale price Price $166.00 Regular price
 Design by Trevor Husband, First Nations artist.
16 ga steel construction.
Steel/Clear Coat, Black, or Rust/Clear coat finishes available.
Made in Canada on Vancouver Island, BC
Orca, or Killer Whale, teaches us about family, community, and balance. Whales are extremely focused on their community structures, teaching their young, and protecting their old.  Orcas hunt as a pack, and take care of their own. 

Their unique black and white marking represent the light and dark energies, and show us how to live in the balance between them. This is similar to the Chinese symbol of the yin yang.