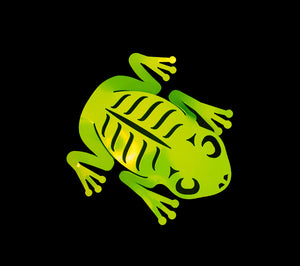 Ruggid Coast
Treefrog
Sale price Price $69.00 CAD Regular price
Design by Trevor Husband, First Nations artist.
16 ga steel construction.
Frog legs hand bent.

Green powder coated finish
Made in Canada on Vancouver Island, BC
Dimensions : 8.5 in length x 8.0 in wide
Frog teaches us about change, and cleansing. Frog signifies the change of season from winter to spring, and Frog himself changes from a water creature to a land creature. Frog medicine helps us to clean ourselves spiritually.