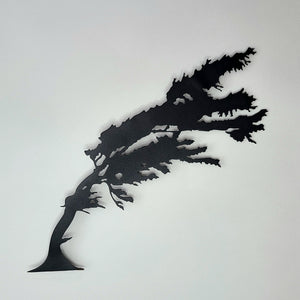 Ruggid Coast
Wild Pacific Windswept Tree
Sale price Price $60.00 CAD Regular price
Design by metal artist Jerrod Pinder (Vancouver Island BC, Canada)

16 gas steel with Powdercated finish.
Welded hangers on back of artwork.
Made in Canada on Vancouver Island, BC.
"This unique tree design was inspired by the many walks we do as family on Wild Pacific Trail in Ucluelet, British Columbia when we visit. Several of these jagged trees line up on the trail along the shoreline. 
It is remarkable that these trees face some of the harshest gales/storms on the west coast, and manage to survive/grow each year. "